Dreamcast Event
CTLB'S 3RD ANNUAL DREAMCAST FUNDRAISER EVENT
This year YOU choose our 5th anniversary season! The event will feature songs and dialogues from a selection of musical productions as candidates for our upcoming 2018-2019 Main Stage season. Join us in selecting which shows you would like us to produce for our 5th anniversary season.
This year's event is also a family event. Both adults and children are invited to join us for a wonderful evening of entertainment, food, silent auction, and children's activities. There will be a special activity for the kids while the adults can spend time getting reaquainted with friends and perusing the variety of silent auction items; all in the one same room.
A delicious show themed buffet dinner will be provided by acclaimed Cloyce Martin along with cookie decorating for the kids. Chef Cloyce Martin was a competitor on the FYI network cooking show Man vs Child: Chef Showdown and is currently enrolled in the culinary arts program at the Orange County School of the Arts.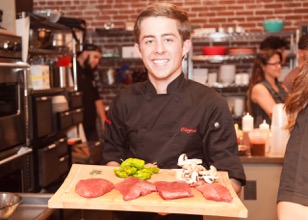 A vast array of silent auction items will be displayed for bidding. Wine will also be available to those 21 and older. Your participation and support of CTLB will make a significant difference in providing greater opportunities to experience and participate in the art of theatre for schools and children throughout greater Long Beach.
EVENT DATE
Thursday February 22, 2018 @ 5:30 pm
EVENT LOCATION
Alpert Jewish Community Center - Auditorium
3801 E. Willow St., Long Beach, CA 90815
TICKET PRICES
Individual Adult Seat »» $75 • Individual Child Seat (12 & under) »» $35
A TABLE OF 8 can be reserved with a single purchase of 8 individual seat tickets. Each table will be decorated with a different show theme which can be requested (subject to availablity) when purchasing your 8 or more tickets. By reserving a table of 8, you will also get to keep the table centerpiece silent auction item as our thank you. All unreserved table centerpieces will also be available in the silent auction.
PARTNER WITH US TODAY AND JOIN US FOR THIS GREAT ANNUAL EVENT!