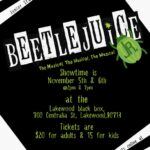 A ghostly haunting's been set loose with Beetlejuice, Beetlejuice, Beetlejuice Junior!
Showtime, is November 5th and 6th. Each show has a matinee at 2 PM and an evening show at 7 PM. However, the show is a double cast, so be sure to check in with your kiddo before buying tickets so that you come to see them on their show day.
We will be haunting the Lakewood Black Box located at 700 Centralia St, Lakewood, CA 90713.
Hope you can make it to this strange and unusual night of fun!
Performance Dates & Times:
     Sat Nov 5th at 2pm & 7pm
     Sun Nov 6th at 2pm & 7pm
Location:
     Lakewood High School Black Box Theatre
     700 Centralia St. Lakewood, CA 90713
.Tickets:
     Adults – $20
    Children (12 & under) – $15
Tickets are available for purchase online until 8:00 am day of the performance. After that time, tickets will be available for purchase at the venue 30 minutes before curtain.
The theatre is open seating and has a limit of 55 seats — so get your tickets early!
Saturday November 5th – 2:00pm
[tc_event id="2592″]
Saturday November 5th – 7:00pm
[tc_event id="2595″]
Sunday November 6th – 2:00pm
[tc_event id="2597″]
Sunday November 6th – 7:00pm
[tc_event id="2599″]